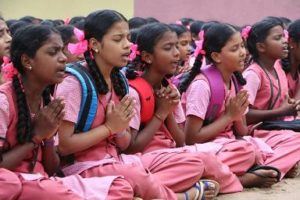 Schools in the neighbourhood reopened after a month long vacation today morning.
At several schools, parents of primary students were seen waiting outside the school gates, hoping to get a glimpse of their wards and making sure they have settled in.
While some children seemed excited about seeing their friends and walked straight in without looking back, there were others who stopped frequently to turn back and wave to their parents.
At St. Raphael's School, San Thome (seen in the picture), young girls dressed in crisp, new uniforms quickly got together for their first prayer session. Teachers were seen directing the students to the assembly and giving them instructions.