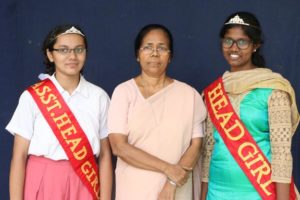 June 16. The campus is abuzz with excitement and anticipation. It is election day at Rosary Matriculation School, San Thome.
In the morning, the senior students are called for. They are asked to choose from a list of names and vote. After a short campaign, the voting begins. Soon, a selection has been made, it is now time to announce the winners.
All the girls, crisply dressed in their blue and white school uniforms, gather at the open air stage at the school premises in the afternoon. A few of them look on from the first floor balcony.
And then comes the much awaited announcement. Sneha Bernard of class XI and R. Sarmistha of class IX are chosen as the school pupil leader and assistant school pupil leader. The girls cheer and clap. Those who voted for them are elated.
After the cheering dies down, the principal Sr. Mary Zacharia decorates the girls with sashes and crowns. A tradition they never miss at this school.