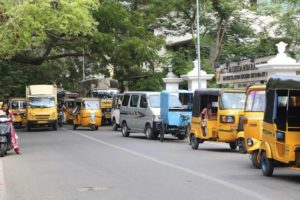 Traffic flow outside the gates of M. Ct. M. School in Alwarpet is drawn into chaos every day when the school opens and closes and this condition is getting on the nerves of many people who use this section of Luz Church Road.
The scene here in the mornings is messy – students who head to this school in vans, cars, autos and bikes all alight outside the school campus gate and the rush clearly messes up the flow of traffic on a road designated 'one way'.
Many school-bound parents ferrying their wards on scooters and bikes violate the 'one way' as they drive from the Alwarpet flyover side ( TTK Road side) and cut into Luz Church Road at the traffic island, further jamming the traffic flow.
Residents here say the school does not allow students to bring their cars or bikes into the campus and the gridlock on the road creates the chaos every day. The campus itself cannot handle the big flow of vehicles.
There is no sign of school staff or police managing this flow.