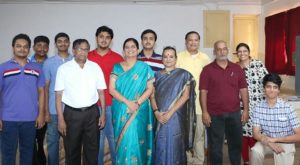 On June 23, the alumni of Vidya Mandir Alumni Association (VMAA) met to talk about the past and to plan the future. The students who completed class XII this year were inducted into the group.
Two members outlined the activities of the association, including their flagship medical insurance scheme of Rs. 1 lakh each for 150 teachers and staff members. They also handed over a cheque of Rs. 1.27 lakh to the principal Shoba Raman, towards the fees of three students admitted under the RTE Act.
The 1991 batch also came forward to take up the construction of elevators, for the convenience of senior teachers and injured students.
The presence of VMAA on social media was also outlined and plans were announced to set up a dedicated portal for the alumni members.
Report by M. Kannuswamy, president, VMAA