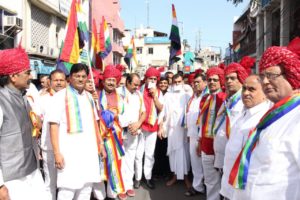 For four months a year, during the Chaturmas period, the Jain community observe penance and meditation. Monks usually stay at one place during this time and take part in discourses and other religious events.
On July 5 this year, a pravesh procession was held by the Vardhaman Shwetambar Sthanakwasi Jain Sangh to welcome their guru Kapil Muni Maharaj into their premises at Bazaar Road.
More than 400 people from other cities in the state and Bangalore took part in this procession which started at the home of a resident at North Mada Street and wound its way through Kutcheri Road, Arundale Street and Natchiappa Street before ending at Bazaar Road, Mylapore.