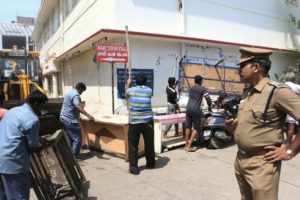 For the second day, workers enlisted by the local unit of Chennai Corporation have been clearing up hawker stalls on the mada streets and adjoining streets around Sri Kapali Temple in Mylapore. Local police are around to address law and order issues if any during this drive.
The focus of this week's drive by the civic body has been to clear the recently-laid pavements here of display boards, showcases and products of shops on the three mada streets.
The hawker stalls in inner streets like Ponnambala Vadyar Street were also cleared this morning even as hawkers protested and then carried away their possessions.
Such clean-ups in this busy zone have been carried out from time to time by the civic agency but the hawkers have always come back to carry on with their business.
Ironically, the vegetable hawkers on South Mada Street now occupy all the space on the recently-laid broad pavements and carry on with their business.