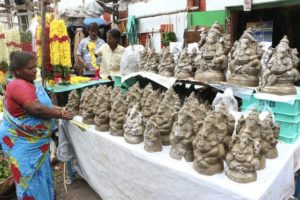 The potters of Mylapore have put out the clay images of Vinayaka for sale. These are on sale on the pavements near Sri Anjenaya Temple in Luz on Royapettah High Road.
The images sell anywhere between Rs 150 and Rs.300 now.
The past week, the family of potters in the Veeraperumal Koil Street have been working over time at the wheel.
One potter said they had made close to 1000 images.
This is the only place in Mylapore where clay images are made and sold.