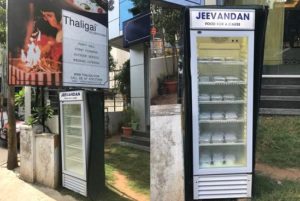 If a lot of food has been left over after a party or an event, you may want to consider dropping off the same at the community refrigerator placed outside Thaligai restaurant at Luz Church Road, Luz (opp. Nageswara Rao Park).
The intiative named 'Jeevan Dan – food for a cause' is the result of a collaboration between Texonic, a technology distribution company, and the restaurant. This initiative enables the people in the neighbourhood to share their excess food with the needy. Special boxes will be provided by the restaurant to place the food.
Jeevan Dan will accept all types of vegetarian food, both homemade and packaged. People can also handover liquid food such as juices, tetra packs, cans, tins and bottles. Non-vegetarian food, rotten spoilt food, and alcohol are not accepted.
Anybody who needs the food can pick it up. For details contact Shanthi Priya at 7904230345.