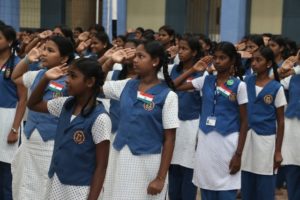 Streets leading to schools in Mylapore this Tuesday morning were filled with school students sporting little paper Indian flags pinned to their uniforms as they headed to their campuses for Independence Day celebrations.
One group of youngsters was heading to Kutchery Road. Another to R. K. Mutt Road. And many students doubling up to Sundareswarar Street where two major schools are located.
The Independence Day events at Lady Sivaswami Aiyar Girls School were elaborate and started with the hoisting of the Indian flag and saluting it.
Similar events were held at Sivaswami Kalalaya school on the opposite side.
Events were also held by community bodies in their areas to mark the occasion.