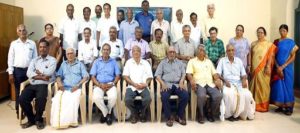 For the 1992 batch of P. S. Higher Secondary School, Mylapore, meeting their batchmates at the alumni meet was a day they had been looking forward to for quite some time.
On July 23, nostalgia was in the air as 30 of them gathered at the school campus to share memories and to honour their teachers.
T. Padmanabhan, the principal of the school, says, "I have been here for 28 years. The students who came for the meet studied under me and I was so happy to see them. In 1992, I taught physics for class XII students and Muthu Mani Mozhian, who now runs an IAS Academy at Saidapet and Lt. Col. Eshwara Krishnan, were my students then. Though I did not take classes for P. Muralidharan, asst. regional manager, advertising department, The Hindu, as he was a commerce student, I still remember him very well".
The batch has donated Rs.75000 towards the fees of 15 underprivileged class IX students. They also plan to donate Rs. 55000 which will be used to acquire ten tables for teachers.
Contact alumni member Muthu Mani Mozhian at 9884691138.