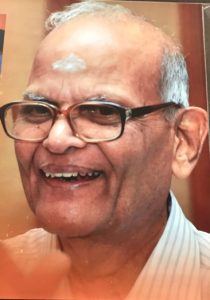 M. Sundaram passed away on August 18. SMS, as he was affectionately called, was a resident of Desika Road for 80 years. Sundaram was the fourth son of late K. R. Sundaram, founder of Enfield India Ltd.
He was an industrialist and was instrumental in starting and running many auto ancillary units in Guindy and Ambattur, supplying components to all car and motorcycle manufacturers in India. He was a former President of Ambattur Industrial Estate Manufacturer's Association.
He was a charter member and Past President of Rotary club of Madras West. Sundaram was the longest serving Trustee of P.S. Educational Society and played a crucial role in turning around the fortunes of P.S. High school that produced many stalwarts. He played an important role in starting P.S. Senior Secondary School at Mylapore.
A diehard fan of Semmangudi Srinivasa Iyer, Sundaram was a former Vice President of The Music Academy and founder of Shri K. R. Sundaram Iyer Music Trust that helped launch many musicians.
He was a good club-level tennis player and played tennis for many decades at both Mylapore Club and Madras Cricket Club.
He leaves behind his wife Lalitha Sundaram, son Bhargav Sundaram and daughter in law Priya, daughter Shanta Raghunath and son-in-law Raghunath Narayanan, grand children and great grand children.
Contact Bhargav Sundaram at 9884049007. Residence 18/28, (opp. Srirangam Andavar Ashram), Desika Road, Mylapore.
– Tribute written by his family.