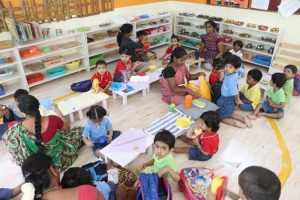 Adversity doesn't seem to shake Smita Visweshwar's belief in women empowerment. The founder of Sprouts Montessori School at Luz Avenue Road, Mylapore, Smita runs this venture with an all-woman team. This is her story.
Hailing from an orthodox Marwadi family where women are not encouraged to work, Smita, who loved teaching decided that she had to take this passion to the next level. In 1999, she took a Montessori course which turned out to be the best decision she had ever made.
Her skills did not go unnoticed and her teacher then encouraged her to start her own school. For two years, she was a partner in a school. She then started an after-school programme for children at Alwarpet which soon expanded to a regular Montessori school. 
Sprouts
was born.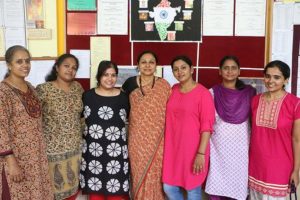 As the strength of the school increased, she had to move base a couple of times before settling for the present location at Luz Avenue. The school now has  240 children in four environments – toddler, primary, elementary and early adolescence (classes 6 and 7).
More than half of her staff are trained in-house. And all of them are women. "We provide all round training to our teachers. They will be trained to take up any role that is assigned to them. Our relationship with our teachers is based on trust and faith and so we don't sign contracts. We offer
flexible working hours to all our teachers", she says.
Why an all-woman team? 
Smita says, "I believe that women have tremendous potential. Due to circumstances sometimes women don't realise what they are capable of. All they need is a little encouragement to bring out their true capabilities. I don't turn away any woman who wants a job".
She has moved outwards too. Having realised the benefits of a Montessori-based education, Smita wanted to spread the word around.
In 2007, Smita and her friend started a trust – Nishkam Trust – and with the permission of the government, started adopting balwadis with a view to provide montessori education to the underpriviledged students there.
She says, "I believe that every child has a right to montessori education. Every year, we sponsor the training of two teachers and then appoint them in the balwadi. So far we have adopted more than 10 balwadi's. If an economically challenged parent of a balwadi student is interested in learning and teaching, we sponsor them too".
Future plans? "In a couple of years we want to expand upto class 10. We hope to adopt a few more balwadis too", says Smita.
The school is located at 10/56, Luz Avenue Road, Bhaskarapuram, Mylapore. Ph: 42074072.
Reported by Preeti Srivatsan