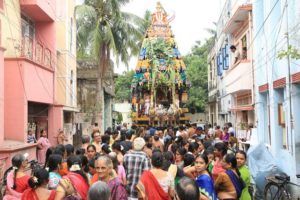 At Vedanta Desikar Temple, Mylapore, more than 200 devotees, including women and children, were seen pulling the ther today morning. The event was held as part of the annual festival on at the temple till tomorrow.
As the beautifully decorated ther made its rounds around the streets of Mylapore, devotees were seen waiting with plates filled with flowers, coconuts, camphor, kumkum and other pooja items.
Traditionally dressed young boys were also seen seated on the ther, fanning the deity.