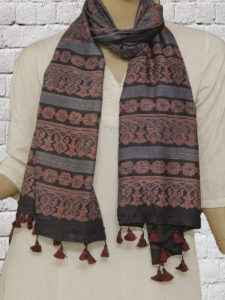 ETHNIC HANDWOVEN CLOTHES – An exhibition and sale of heritage weaves is going on now at C. P. Art Center. It is organised by Matkatus, an online store based in Chennai and working with artisans in different regions of India.
The exhibition will include Ikats, Ajrak, Kalamkari, block prints, Khadi and other handwoven yardage, blouse fabrics, sarees & dupattas. Till Sep 16. For details visit www.matkatus.com.
JAPANESE STYLES – Till Sep 24, Brass tacks will present a limited-edition collection of silk evening wear made from Japanese clamped shibori fabric. At Corporation Complex, 77 C. P. Ramaswamy Road, Alwarpet. Ph: 42081767.