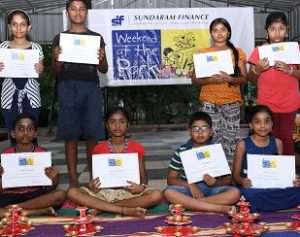 As part of the 'Weekend at the Park' activity and ahead of Diwali, Sundaram Finance organised a two hour diya decoration workshop for children aged 8-12 years on Saturday, Oct 7 at Nageswara Rao Park, Luz.
The children learnt how to make a lamp through a simple three step process. The materials for the workshop were provided by Sundaram Finance. All the children received participation certificates.
'Weekend at the Park' is a quarterly activity organised by Sundaram Finance to encourage children to come out of the confines of their homes into a natural environment and to use the empty spaces in the park constructively and creatively.