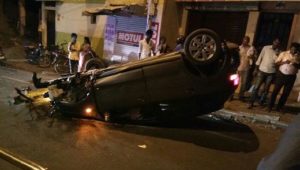 A little after 12 a.m. on Monday morning, a drunk college student crashed his car into a median at R. K. Salai.
According to the Adyar traffic investigation police, 20 year old R. Karthik Narayanan, and his friend R. Shrusti, 22, a fashion technology student from Delhi, were on their way to Marina Beach after a party at a hotel at Teynampet when Karthik lost control and crashed into a median on R. K. Salai. The Volkswagen Polo (seen in the picture) that he was driving overturned. No other vehicle was damaged in the accident.
Both of them tested positive for alcohol. While the car's engine and bonnet were badly damaged, the driver and his friend escaped with minor injuries.
Karthik was booked under section 279 (rash driving or riding on a public way) and section 185 (Motor Vehicles Act – drunken driving).