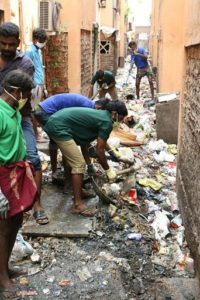 Everytime Lakshmi Narayan. J., a resident of Veerabadran Street, Mylapore passed by unclean streets and homes, he was bothered. In his mind. He felt the need to do something to get rid of the trash, but did not know when and where to start.
About a year ago, Lakshmi Narayan, who works in the houskeeping department at Mayor Ramanathan Hall at MRC Nagar, was discussing with his supervisor Vinod, a newspaper article on dirty bathrooms in a village, when an idea struck them.
Why not duplicate that action in the neighbourhood? There was the 25-member team that they already have in place at the kalyana mandapam.
The team, who call themselves 'The Leaders Team' first did a couple of clean-up jobs at schools in Triplicane. On October 5, they turned to a bigger project – they started the process of cleaning up the much that had accumulated between the blocks of Housing Board apartments at Visalakshi Thottam at Warren Road, Mylapore.
Lakshmi Narayan says, "In between the flats here, though concrete was laid, it was dug up about year ago to lay some pipes and the space was left open. It soon changed into a garbage dump."
The entire length that had to be cleaned will be about 150 feet – the team was able to clean about 35 feet per day.  In some areas, the members had to work in knee-deep trash. "We hope to complete the process soon. Corporation workers on tricycles are helping us haul the garbage," said Narayan.
Mylapore MLA R. Nataraj, has been very helpful, he says. "About 15 of us are working on this project and the MLA's office provided us with masks and gloves".
"Our objective is to make sure that once we clean an area, the area stays clean for a long time. At Visalakshi Thottam, we plan to wash the area with water and then paint it so that people are discouraged from throwing garbage there again", says Lakshmi Narayan.
That will call for an attitude change by the community. And the dirt-busters will have to trigger that change too. Perhaps get the community youth involved.
Narayan can be contacted at 8939368919.
Report by Preeti Srivatsan. Photos by Madhan Kumar