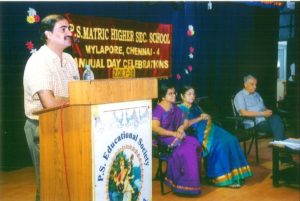 What probably caught the attention of the audience at P. S. Matriculation Higher Secondary School's annual day event held recently was the dance drama on Mahaperiyava – the sage of Kanchi.
The costumes and rendition of dialogues left several speechless. Yet another surprise was a song rendered by the teachers.
T. N. Venkatesh, managing director, Co-optex, presided over the event and distributed the endowment prizes to the school toppers.
Also present at the event were the president and secretary of the P. S. Educational Society, former chief election commissioner, T. S. Krishnamurthy and Dr. K. V. S. Gopalakrishnan and the correspondent Dr. Shanti Raghavan.
A choir and keyboard performance summed up the student performances for the day.