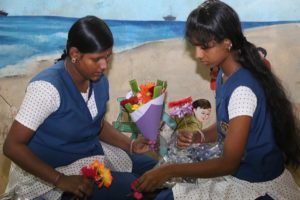 The highlight of the cul-fest held at Sri Venugopal Vidyalaya School, Mandaveli on Oct 13 was probably the on stage event – junkyard groove.
The students used benches, tumblers and even serving spoons, empty water cans and buckets to make music. Some, tapped on their shoulders and laps too for better sound effects.
8 city schools took part in this day long event. Debates, channel surfing, pictionary, off stage events like flower arrangement and diya painting added the much needed zing to the event.
Seen in the picture are students of Lady Sivaswami Girls' School participating in the flower arrangement event.