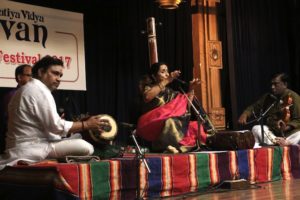 Mylapore's rasikas always get to relish the first offering of the December Season of music and dance. At Bharatiya Vidya Bhavan's music festival; its first part was launched by the state's governor Bhanwarilal Purohit on Nov.20 and since that evening's Aruna Sairam concert, rasikas have ticked the boxes in the Bahavn's fest calendar.
The top-rung artistes are featured here, besides the young and the groups. Imagine this weekend of Abhishek Raghuram and Ranjani-Gayatri.
There are three concerts every evening and on Sundays an event in the morning.
Since the main auditorium fills in fast, post 5 p.m. It is advisable to get in on time; often you may not find a seat for the final and big concert of the day.
And all the musical fare comes free.
< For a listing of Season's concerts at leading sabhas go to www.kutcheribuzz.com