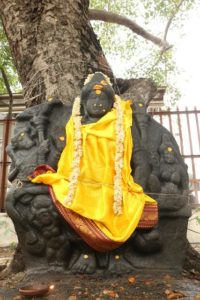 For a long time, the idol of Sri
Jyeshta
Devi lay buried (upto the neck) on the western bank of Sri Kapali Temple tank. The deity is now fully raised and occupies space underneath a tree.
D. Kaveri, the executive officer of the temple says, "About a year ago, devotees coming to the temple felt the need to see the idol completely. We removed the sand and have placed it in plain sight. No other temple in the city has this idol. Every Friday, an abhishekam and pooja is done for the deity".
According to temple heritage enthusiast Padmapriya Bhaskaran, Sri
Jyeshta
Devi or Mootha Devi (commonly known as MhooDevi) is not a goddess associated with bad luck and poverty as popularly believed. "When the devas and the asuras churned the ocean for obtaining nectar, Sri
Jyeshta
Devi appeared before Mahalakshmi did and hence she is referred to as the elder (
Jyeshta
or Mootha) Devi", she adds.
Padmapriya says that Sri
Jyeshta
Devi worship was prevalent in Tamil Nadu during the Buddhist and Jain period and continued widely during the Pallavas and Chola period too. "After the 10th century it started to decline and then discontinued. She is referred to as the wife of Saneeswara and is found seated, flanked by her children, Kuligan (also known as Manthan) and Manthi", says Padmapriya.
"A crow is found on top of the
Jyeshta
panel and she is often referred to as the "Kaakaikodiyaal". She is found holding a blue lotus flower in one forearm and either a vessel or a broom in the other. She is believed to dispel 64 types of poverty from one's life if worshipped. In the past women worshipped her by offering food to her every day before they ate, in order to make sure that poverty and famine did not affect their lives at any time", adds Padmapriya.
"However, it is sad that due to a superstitious belief that Sri Jyestha Devi brings poverty and ill-fortune, the deity no longer finds a place in temples and in people's worship".