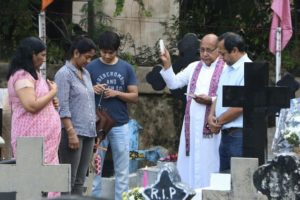 Today is All Souls Day – for the Catholic community. A day to pray for the departed.
And since dawn, families have been visiting graveyards where a family member or a relative may be buried, to place some flowers on the tomb, light a candle and pray in silence.
At the two local area cemeteries – one in Quibble Island, off Dr D G S Dhinakaran Road in R A Puram and the other on St Mary's Road ( belonging to Chennai Corporation) – people have been streaming in since early this morning. The break in the rain has helped people go about their spiritual functions easily though the graveyard campus is damp and soil, soggy.
Outside Quibble Island cemetery, the resting place for many who died in the colonial times flower-vendors set up shop along the cemetery walls.
A few priests were seen blessing the graves. Nuns stood in silence before the tombs of their late colleagues – these graves are located in one section of the campus.
Later today, a Mass will be said at both graveyards.