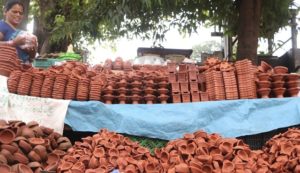 Earthen lamps are now on sale at hawker stalls on Mylapore's mada streets. They come in a variety of designs, from the simple to the specially-designed.
Prices start at Rs.10 for two simple earthen lamps.
The lamps will be on sale for the Karthikai deepam festival, which starts on December 3.
Some shops in the temple zone are also offering electric lamps and fancy design lamps.