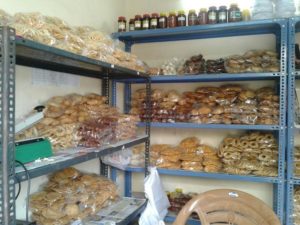 What better way to enjoy your evening this monsoon season than to sip on a cup of hot coffee or tea. And if you are looking for a crunchy home-made snack to go with that, drop by Sowmya Priyadarshini's shop at Nattu Subbarayan Street, Mylapore.
Nestled in the heart of Mylapore, Sowmya's shop is a regular pit-stop for office-goers, party throwers and families looking for traditional bites like murukku and thatai. For people with a sweet tooth, her rava laddu and adhirasam packs a punch.
Sowmya, a homemaker, set up her shop in December last year. She explains why she decided to open a snack shop. "When I have had a long day or when hunger strikes between meals, a healthy home-made snack has always been my fuel. I also felt that people who have hectic schedules crave for these nutritious nibbles but are unable to make them".
The raw materials, she says, are sourced from local wholesale merchants.
Also on the shelves are varieties of appalams, vadams, podis, vattals and pickles. She accepts bulk orders, free delivery is offered for orders priced at Rs. 200 and above.
Her shop, "Sri Ganapathy Stores", is located at 52/62, Nattu Subburayan Street, Mylapore. Ph: 9840536126, 9841079418.