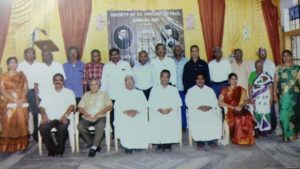 The Vincent De Paul Society, which belongs to Our Lady of Guidance Conference, R. A. Puram celebrated their 75th annual day on Oct 15 at the church premises.
More than 100 people, including donors, adopted family members, tailoring students and teachers participated in the annual general body meeting. Tailoring diplomas were handed over to four students.
Rev. Fr. M. Arulraj, vicar general, Archdiocese of Madras-Mylapore, Rev. Fr. PS. Kanickai Raj, pariesh priest of the church, Bro. G. C. Siluvai, president, Area Council South and Bro. Jude Mangalraj, president, Madras Central Council were felicitated.
Regarding future plans, Clement Louis Raj, a member of the society, says, "The society runs a free clinic, provides scholarships to school and college students and also takes care of the food and education needs of ten adopted families. We plan to continue these activities in the future".