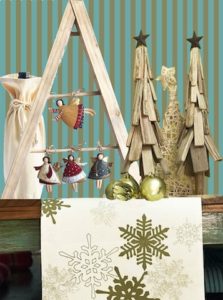 The promoters of a bunch of stores at the north end of C P Ramawamy Road in Alwarpet plan to host a Christmas Street Festival on Dec 10 and 17 (Sundays).
Fourteen retailer have joined together to make this happen.
Says Dipu Krishnaurthi of Azurina boutique, a participant, "We've hired a professional decorator to decorate the roadside with Christmas lights, boughs, and illuminated stars and we've invited outside vendors to come in and set up stalls on our porticos."
These stalls will be selling cookies, cakes, chaat, Christmas decor and garden decor.
Dipu says the participating host retailers are also offering a little something extra on sales made on those Sundays.  "Some are offering an expanded assortment or seasonal products, and others are offering a gift with purchase," she adds.
The fest on the two Sundays will be open from 11 am to 9 pm.
Contact – 9500085915