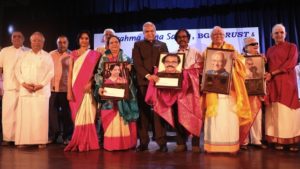 Tamil Nadu's governor Bhanwarilal Purohit was at his second festival inauguration; on Sunday evening ( December 3), he launched the music and dance fest of Brahma Gana Sabha. The event was at the Sivagami Pethachi auditorium in Alwarpet, Chennai.
He spoke a few words in Tamil, telling his audience that he was learning the language from a tutor and that he was getting to appreciate and understand better the regional culture after taking charge at Raj Bhavan, his office and residence campus in the city.
He honored four artistes with titles – vidwan T V Gopalakrishnan, violinist M. Chandrasekaran ( who was earlier on Sunday morning felicitated elsewhere), dance guru and writer Nandini Ramani and dramatist Augusto.
Joining the guests and awardees on stage were the sabha's president Nalli Kuppuswamy and vidwan Umayalpuram K Sivaraman and dancer Urmila Satyanarayanan.
The sabha also released a new logo.
The annual Nalli's 'Guide' to the Season's Concerts was also released and circulated.
Concerts will be held at this venue through December. Tickets are on sale at the venue.