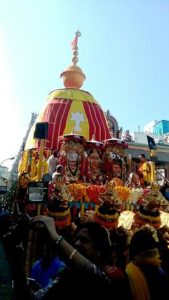 On Jan 12, hundreds of devotees were seen singing and dancing all along the route taken by ISKCON's Jagannath Rath Yatra.
The procession started from Sri Kapali Temple, Mylapore in the afternoon and passed through several arterial roads including R. K. Mutt Road and R. H. Road before reaching the venue at Chetpet in the evening.
More than 10,000 plates of prasadam were distributed to the general public who were encouraged to come and pull the chariot.