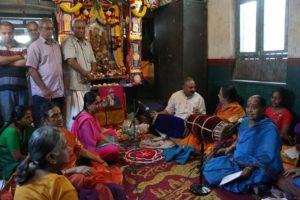 An air of bhakthi and music prevailed at the century old home of N. Vidyanathan, a resident of Mathala Narayanan Street, Mylapore on Bahula Panchami, Jan 6 morning. More than 40 people had gathered there to sing Saint Thyagaraja's pancharatna kritis.
Vidyanathan says, "Every year on Bahula Panchami, we celebrate Thyagaraja Aradhanai, a tradition started by my father flautist Natraja Iyer more than 50 years ago. We do a small pooja and later distribute prasadam".
Guru Rukmini Ramani, Yogam Santhanam, Rajam (sister of flautist N. Ramani), Dr. N. Chandramouli (son of flautist M. Natarajan), B. V. Ganesh, flautist R. Thyagarajan (son of N. Ramani) and several others took part in this event.