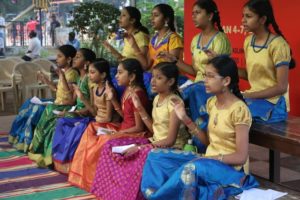 When the twelve dancers and musicians from Palakkad, Kerala stepped on to the stone floor inside Sri Kapali Temple on Thursday evening last to perform what is at the core a ritual dance that has become colourful, the audience of some 300 people were transfixed.
Thanks to Dakshinachitra, the troupe travelled to the temple to perform at the annual Sundaram Finance Mylapore Festival – on from January 4 to 7 on the eve of Pongal.
The performance of 25 minutes got a lot of attention on Day One and social media buzz spread asking friends to watch them again at their Friday night recital, their second show here.
The Bharatanatyam dance recital, themed ' Sivam', a bouquet of items on songs on lord Shiva, choreographed by guru Sreelatha Vinod was next and it got a rousing reception too.
The 2018 edition of the fest has lined up more shows on the main stage this weekend – these will be staged on Sannithi Street square, outside the 16-pillar mantap of Sri Kapali Temple ( on its eastern side).
A Tamil play 'Andha Naal' by SB Creations. based on the classic film of the same name by Veena S. Balachander and a two-hour long concert on Sunday – the finale of this fest – of vintage Tamil film songs that remain evergreen – by music director N. Kannan and his musicians and singers.
All shows of the festival are free and open to all.
There are a number of recitals and shows in the main stage area on all evenings of the festival.
The flagship event – kolam contests – will be held on January 6 and 7, 3.30 pm onwards on North Mada Street. You need to register at the venue a few minutes before the start. Only pulli kolams are allowed and participants will need to design the kolam in the allotted space on the street. The carpet of kolams will be retained here till about 5.30 p.m. for the public to view.
Contests in games of dayakattam and palankuzhi are also held this weekend, indoors. Open to adults and to children.
Each day of the fest starts in the morning, with a 'mike less' concert at Nageswara Rao Park in Luz – young artistes feature here.
There are a few events solely for children – craft/art workshops, contests of traditional games and a chess tourney besides a story-telling session and tour inside Sri Kapali Temple ( Jan.6 evening). 
This time around, there are five Walks on the weekend – on temples, saints, heritage houses and popular food joints. 
Two unique exhibits are featured – one displays some 20 vintage pieces of stuff families used many years ago – radios, coffee filter, gujas, brass plates, gramophone player, vinyl records, lamps; this show is opposite Rasi store.
The Pop Art installation by Poornima is on the East Mada Street pavement, near Rasi store. People can design and paint a cardboard tile and contibute to the installation here. ( Open on weekend, 6 p.m. onwards)
Details of the Festival are posted at www.mylaporefestival.com. The FaceBook page of the fest relays info, photos and videos through the festival days.