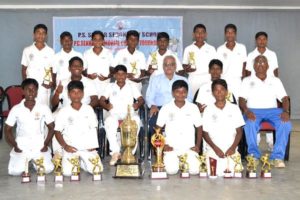 More than 30 city schools participated in the P. C. Sekhar Memorial Cricket Tournament sponsored by the alumni of P. S. Senior Secondary School, Mylapore from Jan 24 – Feb 6.
For the boys of St. Bede's Anglo Indian School, San Thome it was a win they worked hard for. Three boys of the school, P. Vignesh, A. Badrinath and I. Vetrivel also won prizes for best bowler, best player at the finals and best player of the tournament respectively.
K. S. Viswanathan, CEO, Chennai Super Kings was the guest at the valedictory function held on the last day.