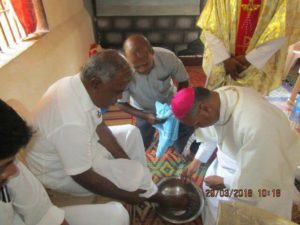 Archbishop Rev. Dr George Antonysamy, who heads the Madras-Mylapore Catholic diocese  drove from his headquarters on San Thome High Road on Thursday and headed to Puzhal jail to celebrate a Holy Week service inside the jail for Christian inmates.
As part of the Maundy Thursday service, the archbishop followed what his brother priests do all around the world – washed the feet of some prisoners at what is the biggest open jail in the country – symbolic of what Jesus did before he sat for supper before being taken away to his condemnation.
The archbishop also heard confessions at the jail before the Mass was held. Two priests served alongside him.