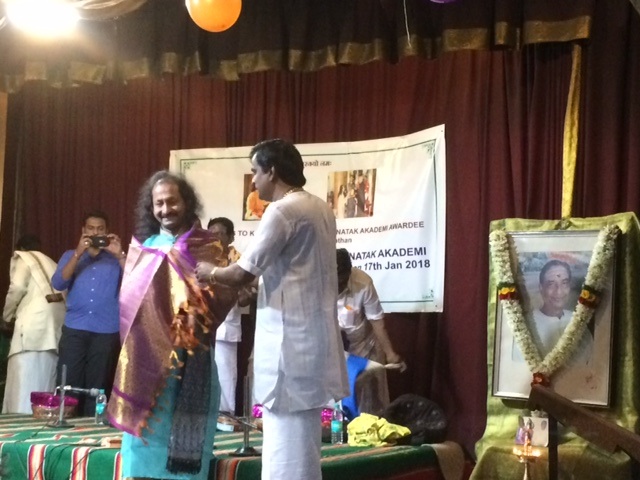 Carnatic music vidwans, family and friends and rasikas were at Raga Sudha hall in Luz on Tuesday evening to celebrate a special occasion – the Sangeet Natak Akademi decorating mridangam vidwan J. Vaidhyanathan with an award, the nation's highest that is given to th country's artistes.
The award was presented to artistes by the president of India in January and the Alwarpet-based Vaidhyanathan was among the artistes who were decorated at Rashtrapathi Bhavan.
Tuesday's event was the idea of kanjira vidwan B S Purushotham, who frequently performs alongside Vaidhyanathan.
Felicitating the awardee were mridangam greats Umayalpuram Sivaraman, T K Murthy, Vaidhyanathan's guru and Srimushnam Raja Rao, violin vidwan T. Rukmini ( who has accompanied Vaidhyanathan's father, the late vocalist and guru D K Jayaraman), actor Y. Gee. Mahendra, concerts organiser Vedanth and senior vocalist Vijay Siva.
These great artistes took turns to touch on Vaidhayanathan's unique style of playing the mridangam, the imprint he left at a concert and the impact he made on rasikas.
Vaidhyanathan himself recalled his early days when his father woke him up at 4 a.m. to start practice sessions, the advice of 'working hard' that his father gave him and the long hours of learning under guru T K Murthy, who did not bother about fees.
It was an evening when many other well-wishers greeted Vaidhyanathan. Among them was playback singer Vani Jayaram who had a special word for Vaidhyanathan.
Short versions of konnakol and nadaswaram  music opened the event, giving it a different touch.