Kalki Sadasivam Memorial Trust recognised Sreshta advertising company with its annual award which recognises a Tamil print media advertising campaign for its creativity and social values.
The event was held at Raga Sudha Hall in Luz on Saturday evening.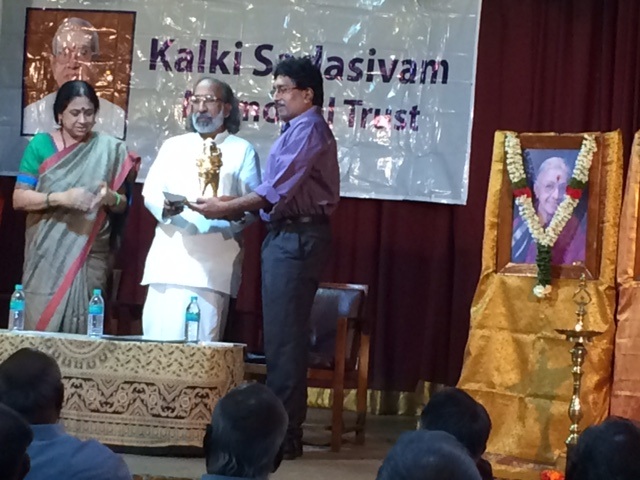 Sreshta, based in T. Nagar, Chennai was chosen for its series of adverts for Pothy's ( a lifestyle retail chain store)  which highlighted the value of planting and growing trees, tying this in with Pothy's own campaign to gift free a sapling to all its customers.
The award was presented by writer Tiruppur Krishnan in the presence of writer and theatreperson and Trust member, Gowri Ramnarayan.
Later, Tiruppur Krishnan spoke on the 'Tamil Trio of the freedom movement' – V. O. Chidambaram Pillai, Va Ve Su Aiyar ( V V Subramania Aiyar) and Subramania Siva.
The hall was packed with people keen to listen to Krishnan's talk.
Earlier, ten students were given scholarships by the Trust, another feature of this annual event.
Seetha Ravi of Kalki magazine and a trustee compered the event.