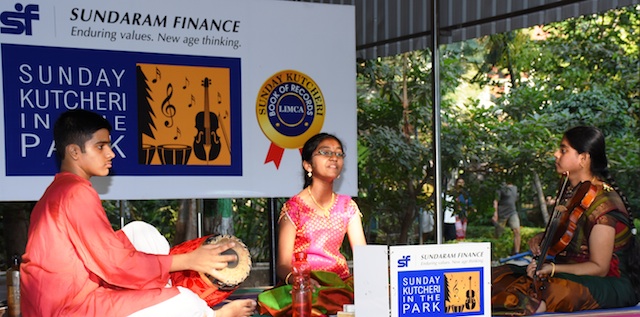 As part of the monthly Sunday Kutcheri in the Park organised by Sundaram
Finance, 11 year old K Shwetha Charan, a class VI student of National Public School, Gopalapuram presented a lively mikeless kutcheri on Sunday (March 4) morning.
The concert was at the Nageswara Rao Park in Luz. Mikes and speakers are not used at the Kutcheri in the Park  concerts, held on the first Sunday of the month.
Shwetha, who is learning music from Indira Raghavan, was accompanied on the violin by
Sangeetha Parthasarathy (disciple of I. Venkatesvaralu) and on the mirudangam by Ajeet Sridhar (disciple of Chromepet G. Suresh).
P. Viswanathan, Company Secretary, Sundaram Finance Ltd., presented certificates and mementos to the artistes.