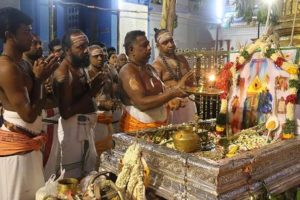 More than a thousand people gathered at Sri Kapali Temple, Mylapore today morning, just before the crack of dawn, to witness the kodiyetram. The hoisting of the flag signifies the beginning of the festival.
The Mada streets have begun to take a festive look with pandals put up at intervals along the streets and vendors setting up their shops.
Inside the temple, there is a flurry of activity all throughout the day as the vahanams are being prepared for the procession. Women groups are seen chanting hymns inside the sanctum sanctorum.
At night, the gopuram decorated with colourful and bright serial lights, presents a perfect picture moment.