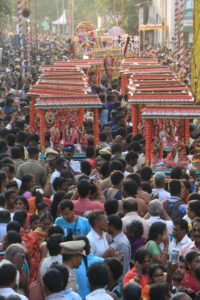 This was the day of the saints. The Nayanmars. The saints who loved lord Shiva. This was their day at the annual Panguni festival of Sri Kapali Temple.
And gathered on all the mada streets to witness this rare procession that marks this fest were thousands of people from all over.
People had begun to stream in from noon. On the way, they snacked at pandals set up in the Mylapore neighbourhood and quenched their thirst – the daytime temperature now zooms past 33 degrees.
The three mada streets and R K Mutt Road was shut to traffic. Sannidhi Street quadrangle was packed to its corners – some 3ooo people milling here as the procession of the palaquins began well past noon.
It was slow and steady, the volunteers putting down the palaquins every few feet down the street. The curious peered at the images of the nayanmars – against each was a name card and that made things easy!
But the eyes of the devotees were on the gods as they joined the procession, grandly. And soon, there were processions of others gods – who had come here from different parts of the city to keep their date with the arabathimoovar celebration.
Watch Video