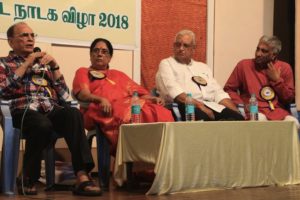 As summer breaks, it is time for Kartik Fine Arts to roll out its annual Kodai Nataka Vizha – where a bunch of theatre groups present their new plays, a sort of premiere for all of them.
For theatre buffs and Mylaporeans seeking their regular dose of entertainment, the festival provides new plays to watch in air-conditioned comfort. And for free.
And so on Sunday evening, Narada Gana Sabha auditorium saw a goodly crowd despite the heat and the IPL's super Sunday matches on TV, at the launch of the 2018 edition of the theatre fest.
Writer Sivasankari and actor A R Sreenivasan were guests at the launch ( seen in the photo here) . Once the formal event was done, it was the turn of Mapillai Ganesh's new play by Ezhichur Aravindan.
A play is staged every evening till May 3. But for the first three rows, seats are open to all.