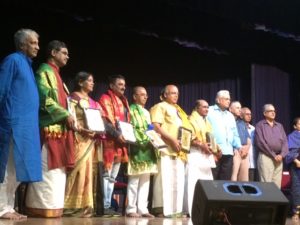 Kartik Fine Arts celebrated the sabha's 43rd annual day, the day when this sabha was launched by a team led  by Kartik Rajagopal.
At Saturday evening's event held at Bharatiya Vidya Bhavan, two sets of awards were given to artistes – lifetime achievement awards and awards of excellence.
Among the artistes who were decorated were tavil vidwan Aridwaramangalam A K Palanivel, discourse speaker S Sunder Kumar and vocalist Maharajapuram Ramachandran.
Other awardees included theatreperson K S Krishnan, violinist B V Raghavendra Rao, mridangist K R Ganesh, ghatam artste S V Ramani, stage actors 'Mapillai' Ganesh and Malathi Sampath and sets designer Saidai Kumar
Earlier, Jayapradha Ramamurthy from Hyderabad gave a flute concert.
The sabha also released its annual souvenir.
Srinivas Acharya, MD, Sundaram BNP Paribas Home Finance was the chief guest. N. Sundar of Hamsadhwani sabha was the special guest. Sabha president K M Narasimhan was present along with his sabha team.