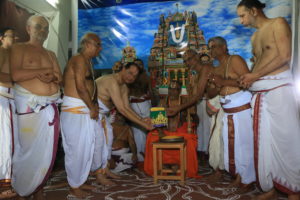 At Sri Vedanta Desikar Temple, Mylapore Saturday, April 14, was a day to remember. The temple launched its spiritual magazine 'Desika Sandesam', more than 500 people had gathered there to participate in the event that evening.
The temple trustee R. Mugunthan says, "The decision to launch the magazine was taken about a week ago. The first issue launched on Saturday has 20 pages. From the next issue, the monthly magazine will have 32 pages. It will be published on the first day of every Tamil month".
He continues, "The magazine will have articles by devotees as well as by the priests of the temple. It will also include information on the history of the temple and future events to be held in the temple"
The magazine will be bilingual, both Tamil and English articles will be accepted.