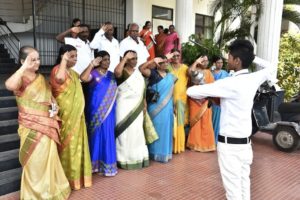 This is the season to say goodbyes at school and college campuses. Students hosting parties after the line of final exams. Teachers wishing seniors who retire.
And so it was a session of warm words and goodbyes at Queen Mary's College last week.
A formal send-off was paid to the faculty and sub-staff of the college with a guard of honour.
Those who are retiring included Ramaligam, Dhanasekharan  and Lakshminarayanan of non- teaching staff, faculty members Dr Shaheen (botany) Dr Nalina Sundari (zoology), Dr Raji ( Geography & additional controller of exams), Dr Sivasakthi (Tamil), Dr M.A.Bhageerathi (music) Dr Vasanthalakshmi (English), Dr Aruna Sundari (history), and Vanajothi (staff in the Controller's Office).
Later, there was an informal send-off  party for Dr. M.A.Bhageerathi in which many HoDs too part.