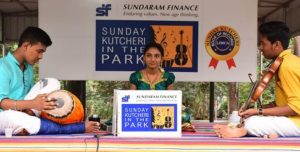 As part of the monthly Sunday 'Kutcheri in the park' series organised by Sundaram Finance, 14 year old Harini Rangarajan, a class X student of Chettinad Harishree Vidyalayam, R. A. Puram presented a lively mikeless kutcheri April 1 morning at Nageswara Rao Park, Luz.
Harini, who is learning music from guru Vasumathi Desikan, was accompanied by Mukund Samraj on the violin and A. Rohit on the mridangam.
Launched in February 2006, this event provides opportunities to children aged 15 years and below to perform in front of an informal park audience amidst chirping birds and falling leaves.
Sundaram Finance conducts auditions to select the artistes. Email: sundaykutcheri@sundaramfinance.in.