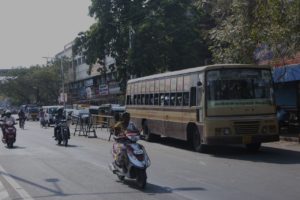 Normal life does not seem to be affected as the strike-call given by the state's Opposition political parties today got underway. The bandh has been called to protest against the central government's response to the setting up of a Board to address Cauvery water issues.
MTC buses and autos were seen plying on the roads in Mandaveli, Mylapore and Luz. So were share autos and private vehicles.
Police presence was minimum.
As peak hour traffic began to increase past 9 a.m. Luz Circle looked like it does on any working day.