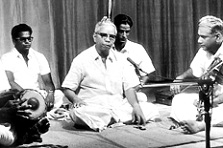 Two concerts will be held at Raga Sudha Hall, Luz to mark guru Ramnad Krishnan's centenary celebration.
On April 28, Prasanna Venkatraman will be accompanied by H. B. Bhaskar and K. Arunprakash. At 6 p.m.
– On May 5, vocalist Geetha Raja will be accompanied by Shreya Devnath on the violin, Kallidaikurichi Sivakumar on the mridangam and Papanasam Sethuraman on the kanjira. At 6 p.m.