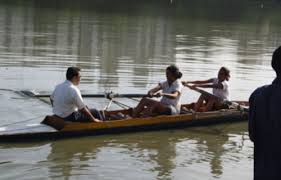 The Adyar river will witness some rowing action by young sportspeople. From April 12 to 14, 70 students from 50 schools and colleges from four states (Tamil Nadu, Kerala, West Bengal, and Karnataka) will be competing for top honours at the MBC Schools & Colleges Regatta 2018 in the single and double scull categories.
The participants range in age from 10 to 20 years.
The Regatta, organised by the Madras Boat Club, a 151 year-old institution at the far end of R. A. Puram, is an annual event on the rowing calendar of the Club and is growing steadily
with each edition.
After the hectic competition on the Adyar waters, the Regatta participants will unwind with the traditional Regatta Night on April 14.
Traditionally, when teams visit for regattas, the host Club would organise
accommodation for the visitors with their own team. So while participants
would compete fiercely on the water, off the water, they roomed together and
ate together making for lifelong friendships.
Over the years, this tradition has died down with the mushrooming of hotels.
Madras Boat Club members said that with this Regatta, MBC aims to
revive this tradition and parents and participants from Chennai have
gamely agreed to host some of the visitors.
This Regatta is in its second edition