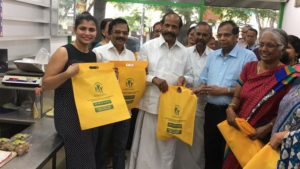 "When you step out to shop, don't forget your list, money and your own shopping bag".
This was the slogan used by the members of the Abhiramapuram Neighbourhood Residents Association (AbhiNeRA) for their week long 'Stop Using Plastics' campaign inaugurated on April 4 at 4th Street, Abhirampuram.
Mylapore MLA R. Nataraj and singer Chinmayee Sripada joined several residents at the event.
Reusable bags were distributed to several shoppers who dropped in at the local stores there, the MLA got a few for himself too.
< Does your community encourage eco-friendly practices? Tell us the story! Write to us at – mytimesedit@gmail.com