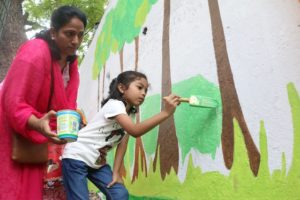 The wall of Aashiana Apartments in Venus Colony, Alwarpet which fronts the road here now wears a colourful look. It flaunts images that speak of issues like saving rain water, growing and caring for trees in the public space and keeping common areas clean.
On Saturday morning, adults and children of Aashiana painted the wall with the help of some professionals.
Residents also hope that the painted wall will discouyrage people from disfiguring it and encroaching here.