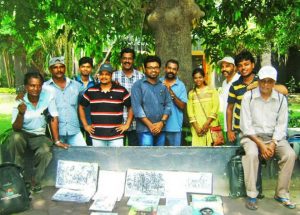 WEEKEND ARTISTS MEET
Is sketching or drawing your hobby and you want to work at it with an informal group? Join members of Chennai Weekend Artists, the sketching group at their Sunday meet at Nageswara Rao Park, Luz.
This Sunday, they pay tribute to the memory of caricaturist Rajamaran Kandamaran who passed away suddenly a few days ago. CWA meets regularly at various city venues. Open to all, free.
CARNATIC MIXED
Musicians Mahesh Raghvan and Shravan Sridhar, a violinist will interweave Carnatic music into many other forms at a concert at Hotel Savera's Bayleaf restaurant on May 10 evening. This place hosts a variety of music concerts featuring new talent and give space for artistes to jam and guests to unwind.
May 10, 8.30 p.m.onwards. Ticketed show.
MAGIC SHOW
Russian Alex Black continues his daily magic shows and entertainment at Russian Cultural Centre, Kasturi Rangan Road till mid May. Rs.500 per ticket. Two shows on weekends. Call 24990050
IN CIT COLONY
Artist M Rama Suresh presents ' Meraki' which includes a package of knife painting techniques of a study of people with their backs to us. On at Soul Spice gallery, 21/11, 1st Main, CIT Colony, Mylapore. Till May 17.
TAMIL PLAYS
Bharatiya Vidya Bhavan's annual Tamil drama fest is on from May 8 to 11 and from May 14 – 18. A mix of recent and older plays will go on stage. Open to all. Evenings at the main auditorium.
HINDUSTANI ON FLUTE
Pandit Vivek Sonar, senior sishya of flautist Hariprasad Chaurasia will perform on May 12, 6 pm at Arkay Centre, Luz.  Open to all. He also holds a workshop on playing the bansuri – over 2 days. Call8369723981 to register for this workshop.
TALK, DOCU-FILM
The theme of the talk in Tamil is on Carnatic Music tradition of Sri Lanka and on tavil vidwan Yazhpanam Tehdchanamoorthy – by film maker Amshan Kumar. May 5, 5.30 pm at Arkay Centre, Luz. Kumar's film on the vidwan will be screened. Hosted by Tamil Heritage Trust.
COCKTAILS
Cocktails best suited for the summer season served at the Leela Palace Hotel, MRC Nagar. A mix of locally-made beverages and spirits. Served through May.
JUST DOSAS
Want to grab a light snack on the run? Try the newly opened 'Tosai' food nook at the Billroth Hospitals junction in R A Puram ( in the Corporation Complex). Promises dozens 0f varieties of tosais ( dosas) with a variety of fillings.