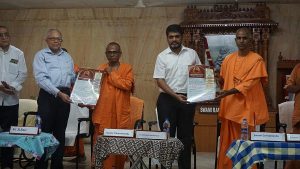 To mark the 125th anniversary of the 'Chicago address' of Swami Vivekananda at the Parliament of World's Religions in Sep 1893, several competitions including recitation, essay, poetry and drawing competitions will be held for school and college children all over Tamilnadu, Pondicherry and Karaikal. The prizes will be distributed on Sep 11.
A meeting regarding this was held on May 27 at Sri Ramakrishna Math, Mylapore wherein the plan of action was worked out. District wise committees were formed.
Several district coordinators including N. Ravi, director, The Hindu, K. N. Ramaswamy, director, Bharatiya Vidya Bhavan, Chennai, Sankar Vanavarayar, joint secretary, Kumaraguru Educational Institutions, Coimbatore and others attended the meeting and offered their valuable suggestions.
For details contact Swami Naravarananda at 8778582994​.