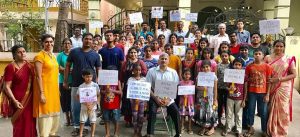 To celebrate Mother's Day, about 50 members of Raja Street Residents' Association got together on May
13 evening to participate in a silent walk from Raja Street, Mandaveli to Dr. Ambedkar Mani Mandapam at MRC Nagar.
Placards, with strong messages to protect girls and to stop abuse, were carried by the children and parents of the group. A counselor then addressed the children and discussed safety issues.
Police officials walked alongside to show their support.